H-alpha Full Sky Map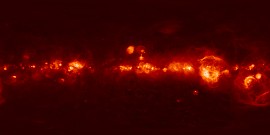 Data Files v1.0: Download either the Cartestian projection or the HEALPIX projection.
---
Cartesian (8640 x 4320 Projection - 2.5' pixels)

Halpha_map.fits - The H-alpha map in Rayleighs (150 MB)
Halpha_mask.fits - Bitmask described in paper
Halpha_error.fits - Error estimate for each pixel (ignoring covariance) (150 MB)





---
HEALPIX (Galactic, nested) - all files are 6' FWHM beam.
Note: the Nside=256 and 512 files are here by popular request.
They are badly undersampled, and attempts to violate the Fourier sampling theorem will be prosecuted!








---
Douglas Finkbeiner, dfinkbeiner@cfa.harvard.edu